More Than LED Industrial Lighting Engineers
Tactik Lighting was created for clients who want to design projects systematically, based on their company goals and future initiatives. Our CEO's military background has helped shape our company – the standard operating procedures, the emphasis on precision, and the tactical approach we take in solving our clients' problems. We investigate. We measure. We data log temperatures, vibrations, light levels and reflectances. Why? Because, done correctly, these projects can do far more for an organization than just save energy.
Made in the USA and Veteran Owned
Tactik Lighting CEO and Lead Energy Expert Tim Wasmer, a U.S. Army veteran, makes sure that our "failure is not an option" mindset permeates the entire company. We are far more than just LED lighting engineers. We're passionately committed to being the team our clients depend on for the right energy efficiency solutions for their businesses. On time. Within budget. Delivering results as promised.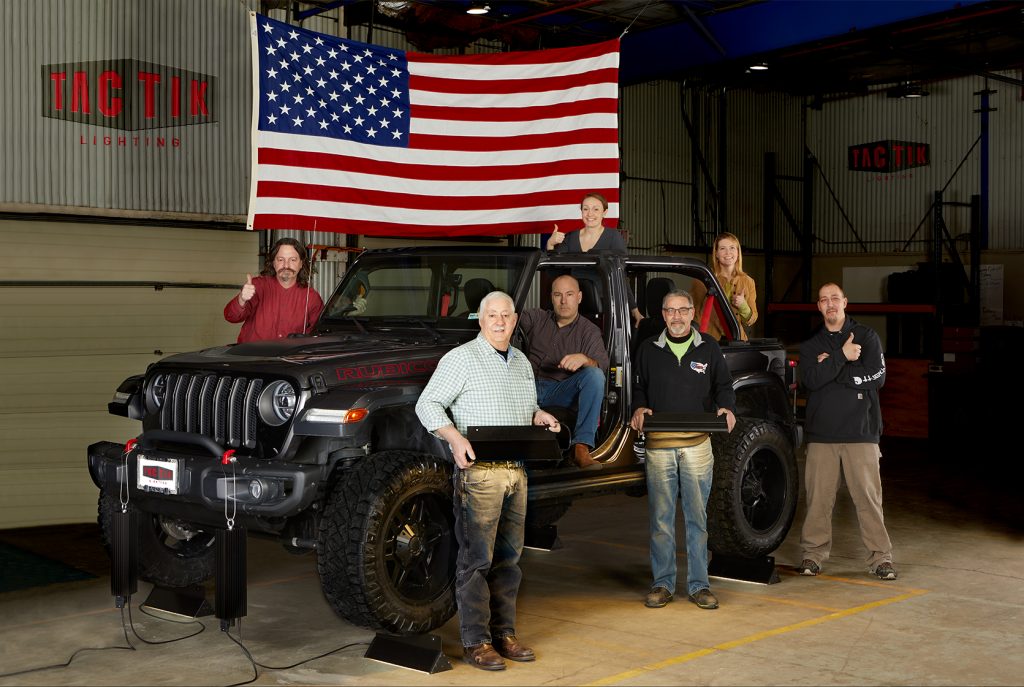 From left to right: Wayne Rettig (Creative Director), Dave Wasmer (New Product Development Engineer), Tim Wasmer (Founder & CEO), Sami Richter (Marketing Administrator), Jeff Strauss (Electrician & Team Leader), Sheila Oppeneer (Production & Customer Service Specialist), and Chris Drews (Production Team Leader). 
The team at Tactik Lighting putting our military-grade light fixtures to the test. They held up - under the weight of a 5800 lb jeep! That is the strength and durability you can expect from all of the products manufactured and sold by Tactik Lighting.
Smart Engineering Focused
We don't just go back to the warehouse and grab a box to install. We take the time to understand your situation, your environment, and your business challenges. Our due diligence includes a thorough assessment of your current lighting, complete with light readings to enable fact-based decision making. We then engineer the right LED lighting solutions to optimize your facility's lighting requirements, as well as your energy savings. This includes before and after photometric layouts, so you know exactly what you're getting before implementation gets underway. After all, we want you to be delighted with the results. And done correctly, those results can improve the trajectory of your entire organization.
Experience has taught us that a systematic approach is required for success. We drive consistency and sweat the details so you never end up with an LED lighting solution that's less than ideal for your facility.

Education
Learn about how the parts work together to make a product.

SMART Goals
Specific, measurable,
attainable, realistic, timely.

Design
Product specifications that will meet or exceed your goals.

Implementation
Prioritizing safety,
efficiency and consistency.

Metrics 
Post project analysis to prove that the project is a success.
Why Choose Tactik Lighting? Thousands of SKUs Made Here
* Lead times are subject to product availability.

The Tactik Lighting Mission
Tactik Lighting was founded with the goal of designing and manufacturing the most durable, longest lasting, and most energy efficient LED light fixtures available. We engineer our products to military grade so they will withstand and effectively illuminate some of the harshest industrial environments imaginable.
Passion
Innovation
Business Acumen
Mastery
Resilience
Schedule a FREE Energy Star
Benchmarking Assessment
Memberships & Affiliations