Citadel Series Tri Proof LED Light 
Want the very best and brightest in military-grade LED lighting? Turn to the Citadel. This series looks like no other LED because it's designed like no other LED. As a result, it stands up to the most demanding high-heat, high-dust & debris and corrosive environments like no other LED.
Available in extreme temperature (up to 245°F), high temperature (up to 195°F), or standard temperature (up to 130°F)
UL Listed Drivers with less than 1% failure rate. Driver temperature up to 149°F (or 65°C)
Patent-pending design extends fixture life by helping prevent build-up of insulating dust and debris and eliminates illumination dead spots
Patent-pending remote driver minimizes fixture operating temperature without re-gridding required
Dimmable 0-10V
In-series transient voltage surge suppressor (TVSS) protects fixture against failure due to power supply surges
Optional motion sensor to maximize energy efficiency. Choose from standard by Wattstopper with L7 lens, or Internet of Things (IOT) by Enlighted Sensors.
UL 1598 listed
IP65 rated
Includes 10 Year Module Warranty - Full light engine or plug & play driver module replacement, rather than parts
Citadel Series Specifications
Power Factor:  >0.9
Input Voltage:  120/277V & 347/480V
Performance:  Up to 160 lm/W
Operational Temperature:  -40°F to 245°F
Distribution:  120°, 60° & Aisle
Mount Type:  Suspension
Kelvin Temperature:  3000K, 4000K, 5000K
Available Wattages:  100, 150, 200, 250, 300, 400, 500, 600, 700, 800, 900
Color Rendering Index (3000K):  >70
Color Rendering Index (4000K):  >70
Color Rendering Index (500K):  >90
Citadel Series Additional Details
Scroll
SERIES
WATTAGE
KELVIN
OPTICS
LENS
FINISH
DRIVER
VOLTAGE
REMOTE
CABLE
MOTION
SENSOR
BATTERY
BACKUP
DLC
POWER CORD TYPE
CORD
LENGTH
CIT-1 Std Temp
100
30- (3000K)
1- No Optics
2- Flat Poly Clear 2
1- Black
1- 120/277V
1- 6'
X- No
X- No
X- N/A
1- whip 120-277V
1- 6'
CIT-2 High Temp
150 1
40- (4000K)
2- 60º
6- Flat tempered glass clear
4- 347/480V
2- 10'
1- Standard 3
1- Yes
1- Standard
2- whip 347-480V
2- 12'
CIT-3 Extreme
200
50- (5000K)
4- Aisle
3- 25'
2- IOT 3
3- 125V 15amp Straight
250 1
4- 50'
4- 125V 20amp Twistlock
300
5- 100'
5- 250V 20amp Twistlock
400 1
6- 200'
6- 277V 15amp Twistlock
500 1
7- 500'
7- 277V 20amp Twistlock
600 1
8- 1,000'
8- 480V 20amp Twistlock
700 1
9- Custom
9- 600V 20amp Twistlock
800 1
900 1
1 Under Review - DLC approval pending
2 Due to melting concerns, Flat Poly Clear Lenses are only available with CIT-1 Standard Temperature Fixtures.
3 Motion Sensor information: Standard (1) features sensors by Wattstopper with L7 lens. Internet of Things or IOT (2), features sensors by Enlighted Sensors.
Lumen Output & Dimensions
Prevent Premature LED Fixture Failure
As dust & debris accumulate, they act as insulators. This causes internal temperatures to soar and frequently leads to premature fixture failure. The Citadel Series' innovative design addresses this issue three different ways.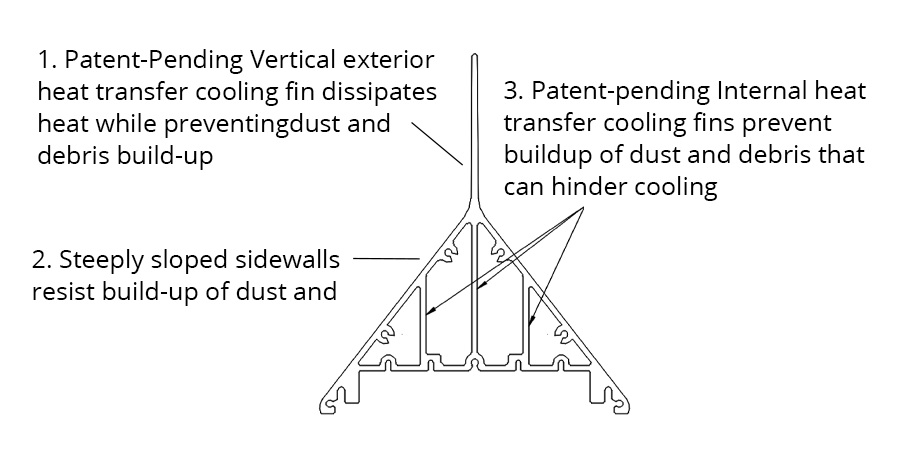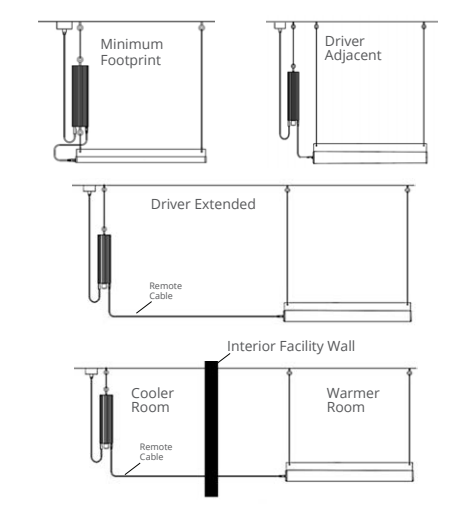 Remote Drivers Enhance Cooling and
Eliminate LED Re-Gridding Headaches
With leading competitive units, the LED driver is inside the light, which results in a lot of heat. Tactik's products have substantially lower fixture temperatures because we offer remotely mounted fixtures. Whether your fixture and driver are spaced 20 feet apart, 200 feet apart, or are mounted in different rooms entirely, our remote driver options protect the driver integrity and protect the LED light itself by allowing the driver to be cooled more effectively.
Furthermore, if you need to alter fixture placement due to changes to your plant floor layout, this can be accomplished quickly and easily without re-gridding hassles. Simply change out the remote cable cord for one of suitable length to reach the new location of the fixture.
Save Money + Space with Custom Daisy Chain Configurations
Our custom daisy chain configurations allow you to power multiple fixtures with one driver, saving you money and space. And we can custom-mount
your drivers at a height that best suits your environment.
Reach out to a manufacturing representative today for a custom quote for your facility.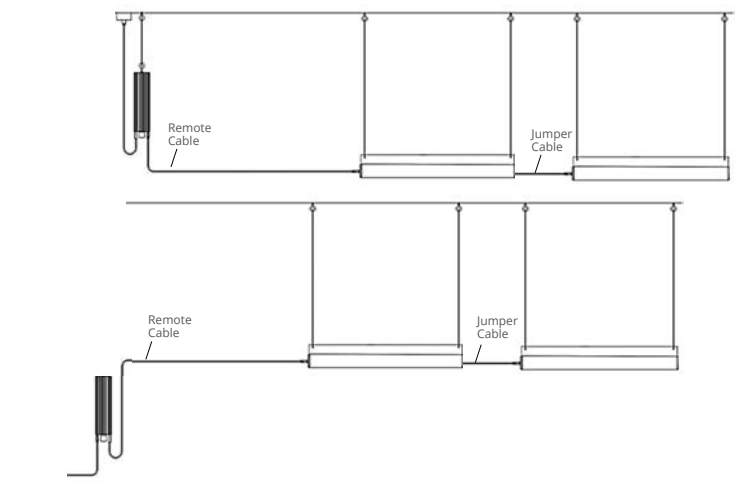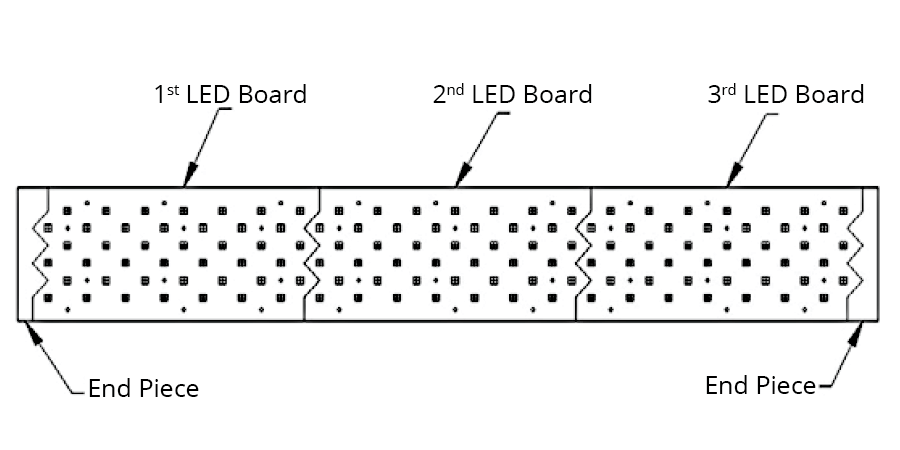 Uniform LED Lighting Efficiently Configured to Your needs
Patent-pending shark tooth design enables LED boards to be configured for any of 11 models, ranging from 100-900 Watts. Resulting array provides uniform light distribution with no dead spots.
All orders totaling $4,000 or more ship free of charge.
Mail completed application to:
Tactik Lighting, 3115 N. 21st St., Suite 2, Sheboygan, WI 53083
Learn more about Tactik's industry-leading 10 year standard warranty!