COLONEL Series LED Explosion Proof Fixtures
The Colonel is designed to stand up to the demanding conditions faced in IEC60079 Zone 1,2, Zone 21 and 22 and UL844 standard Class I  Division 1, Class II  Division 1 environments. Rugged materials and design to ensure resistance to extreme environments and tough conditions.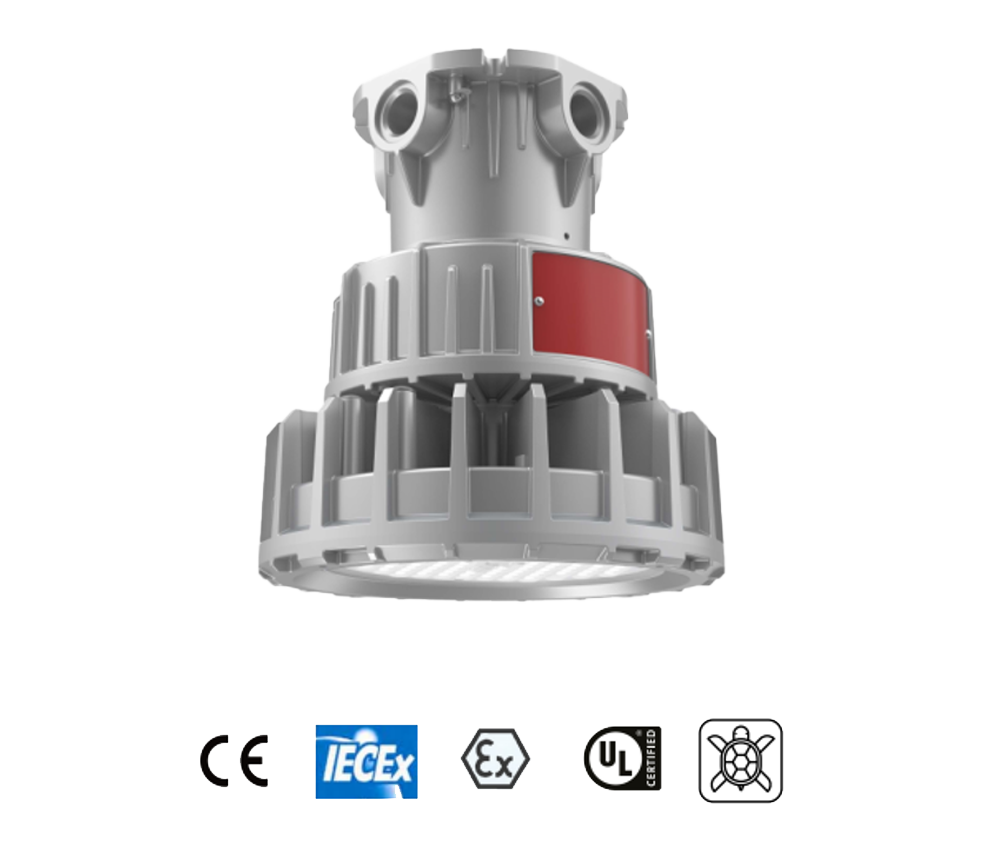 COLONEL Series LED Features
Available in 30W, 40W, 50W, 60W, 70W; efficiency up to 140lm/w, lumen packages from 4200lm to 9800lm
IP66 and IK10 double protection, with super reliability
Input Voltage: AC120-277V, AC277-480V (50/60Hz)
1-10V dimmable and DALI control optional
Pendant, Ceiling, Wall, Trunnion, 25° Stanchion
Warm White-Cool White options 2000K - 6500K
Colored LED available: R/G/B/AMBER options
Wildlife Friendly for coastal areas
Standard 120° Optic
The max operating ambient temperature range: -40°C to 65°C (-40°F to +149°F)
Quick connection design, the installation wiring module is connected with the fixture thread, more convenient and faster installation and wiring
Equipped with low copper aluminum alloy body and special powder coating, as well as stainless steel components with special anti-corrosion treatment
Well-organized terminal block, the ceiling mounting, bracket mounting and wall mounting are equipped with four conduit holes
LED chips are separated from the driver cavity, ensures good heat dissipation and longer service life
Optional stainless-steel guard
Certifications and UL Listings
Class I, Division 1, Groups B, C, D
Class I, Division 2, Groups A, B, C, D
Class II, Division 1, Groups E, F, G
Class II, Division 2, Groups F, G
Class III
NEMA 4X
UL 1598 - Wet Locations | UL 1598A - Marine | UL 8750 - LED Safety | UL 844 - Hazardous Locations
CSA Standard
CSA C22.2 No. 137
CSA C22.2 No. 250.0
COLONEL Series LED Applications
Chemical
Oil, gas and petrochemical
Pulp and paper
Foundries
Manufacturing
Waste and sewage treatment
Power generation
Paint spray booths
COLONEL Series LED Additional Details
SERIES
WATTAGE
VOLTAGE
CCT
OPTICAL
CRI
ACCESSORIES
MOUNTING
WARRANTY
COL
3- 30W
1- 120-277V
1- 3000K
1- 120°
1- 70
X- None
1- Trunnion Mount
5- 5 Year
4- 40W
2- 277-480V
2- 4000K
2- 80
1- 3/4" NPT
2- Ceiling Mount
10- 10 Year
5- 50W
3- 5000K
3- 90
2- Wire Guard
3- Pendant Mount
6- 60W
R- Red
4- Wall Mount
7- 70W
G- Green
5- 25° Stanchion Mount
B- Blue
A- Amber
All orders totaling $4,000 or more ship free of charge.
Mail completed application to:
Tactik Lighting, 3115 N. 21st St., Suite 2, Sheboygan, WI 53083
Learn more about Tactik's industry-leading 10 year standard warranty!