EVAC Series LED Life Safety Fixtures
Introducing the EVAC Series, a robust lighting solution with customizable label content, low energy consumption, and flexible installation options. Crafted from durable A356T6 Aluminum with a tempered glass sign panel, this series is suitable for both indoor and outdoor applications. Its versatility is enhanced by pendant, wall, and end bracket mounts, while the transparent glass sign panel ensures easy maintenance.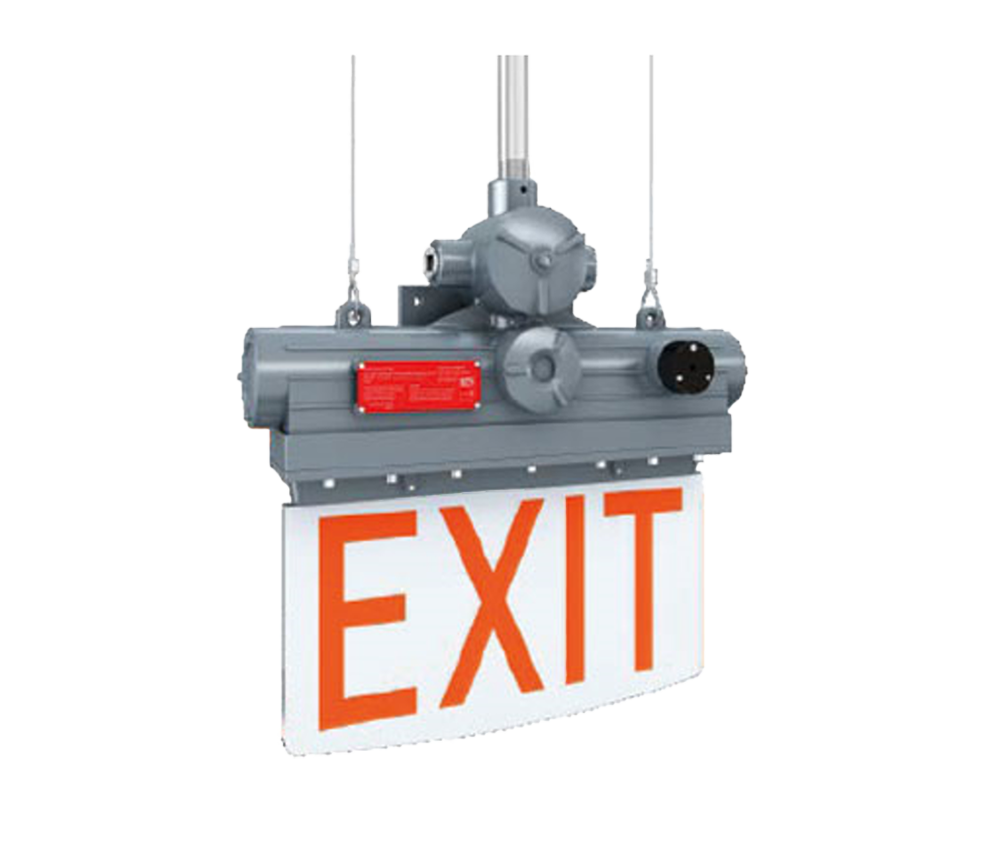 High durability and reliability
Label content customizable
Low working wattage for energy saving
3/4" NPT or M25 conduit hubs
Pendant, wall and end bracket mounts provide universal installation options. Glass sign panel makes cleaning easy
Long lifespan: Up to 50,000 hours
Operating Temperature: -40°F to 140°F
Emergency Battery included (90 minutes)
Housing: A356T6 Aluminum with baked epoxy finish
Sign Panel: Tempered Glass (Transparent)
Letters: Red (std) or Green
Weight: 13.23LBS
Gasket: One-piece Silicone
Hardware: Stainless Steel (including hangers)
Marking UL844
Class I, Division 1, Groups B, C, D
Class I, Division 2, Groups A, B, C, D
Class II, Division 1, Groups E, F, G
Class II, Division 2, Groups F, G
Class III
Marking Marine UL924
Other: Wet Location
EVAC Series LED Applications
Power Plants / Heavy Industrials
Distillery, Alcohol
Paper Mills / Wastewater Treatment Plants
Loading Docks / Platforms / Shipyards
Chemical Processing Facility
Petrochemical Processing Facility
Mining
Ocean Marine
LNG facilities
EVAC Series LED Additional Details
SERIES
WATTAGE
LETTERS
VOLTAGE
OPTIONS
EVA
3- 3W
1- Red
1- 120-277V
1- Wall Mount
5- 5W
2- Green
2- Pendant Mount
All orders totaling $4,000 or more ship free of charge.
Mail completed application to:
Tactik Lighting, 3115 N. 21st St., Suite 2, Sheboygan, WI 53083
Learn more about Tactik's industry-leading 10 year standard warranty!