NCO Series Industrial LED Light
When the top brass needs a job done, they rely on non-commissioned officers (NCOs). Our NCO Series delivers that same no-nonsense work ethic when it comes to military-grade LED lighting. No complaints. No Surprises. No excuses. Just a commitment to exceeding expectations. That's why the NCO is destined to be the backbone of mission-critical objectives across the country.
Available in extreme temperature (up to 245°F), high temperature (up to 195°F), or standard temperature (up to 130°F)
Patent-pending remote driver minimizes fixture operating temperature and allows fixture to evolve with changing plant floor demands with no re-gridding required
UL Listed Driver with less than 1% failure rate. Driver temperature up to 167°F (or 75°C)
Patent-pending LED board design eliminates dead spots in illumination
Dimmable 0-10V
In-series transient voltage surge suppressor (TVSS) protects fixture against failure due to dirty power and power supply surges
Optional motion sensor to maximize energy efficiency. Choose from standard by Wattstopper, or Internet of Things (IOT) by Enlighted Sensors.
UL 1598 listed
IP65 rated
Includes 10 Year Module Warranty - Full light engine or plug & play driver module replacement, rather than parts
NCO Series Specifications
Power Factor:  >0.9
Input Voltage:  120/277V & 347/480V
Performance:  Up to 153 lm/W
Operational Temperature:  -40°F to 245°F
Distribution:  120°, 60° & Aisle
Mount Type:  Suspension
Kelvin Temperature:  4000K, 5000K
Available Wattages:  100, 150, 200, 250, 300, 400, 500, 600, 700, 800, 900
Color Rendering Index (4000K):  >70
Color Rendering Index (5000K):  >90
NCO Series Additional Details
Scroll
SERIES
WATTAGE
KELVIN
OPTICS
LENS
FINISH
DRIVER
VOLTAGE
REMOTE
CABLE
MOTION
SENSOR
BATTERY
BACKUP
DLC
POWER CORD TYPE
CORD
LENGTH
NCO-1 Std Temp
100
40- (4000K)
1- No Optics
2- Flat Poly Clear 2
1- Black
1- 120/277V
1- 6'
X- No
X- No
X- N/A
1- whip 120-277V
1- 6'
NCO-2 High Temp
150 1
50- (5000K)
2- 60º
6- Flat tempered glass clear
4- 347/480V
2- 10'
1- Standard 3
1- Yes
1- Standard
2- whip 347-480V
2- 12'
NCO-3 Extreme
200
4- Aisle
3- 25'
2- IOT 3
3- 125V 15amp Straight
250 1
4- 50'
4- 125V 20amp Twistlock
300
5- 100'
5- 250V 20amp Twistlock
400 1
6- 200'
6- 277V 15amp Twistlock
500 1
7- 500'
7- 277V 20amp Twistlock
600 1
8- 1,000'
8- 480V 20amp Twistlock
700 1
9- Custom
9- 600V 20amp Twistlock
800 1
900 1
1 Under Review - DLC approval pending
2 Due to melting concerns, Flat Poly Clear Lenses are only available with NCO-1 Standard Temperature Fixtures.
3 Motion Sensor information: Standard (1) features sensors by Wattstopper with L7 lens. Internet of Things or IOT (2), features sensors by Enlighted Sensors.
Lumen Output & Dimensions
Prevent Premature LED Fixture Failure
As dust & debris accumulate, they act as insulators. This causes internal temperatures to soar and frequently leads to premature fixture failure. The Citadel Series' innovative design addresses this issue three different ways.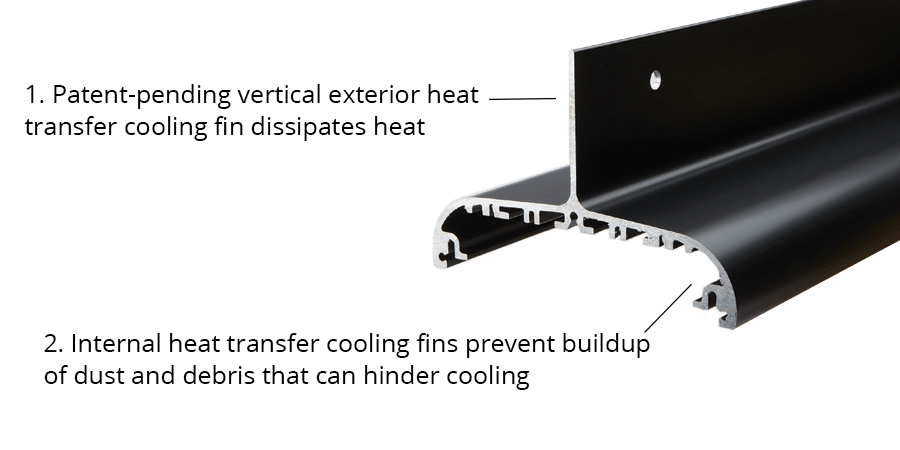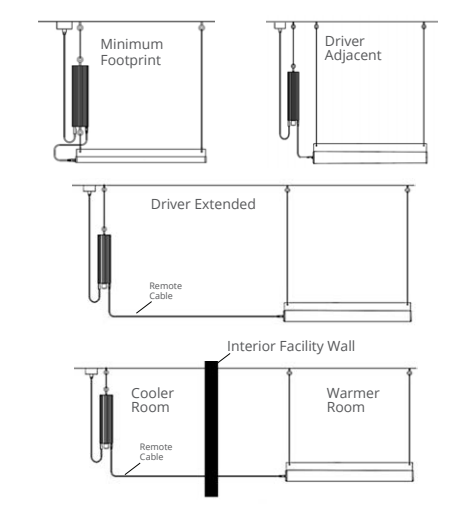 Remote Drivers Enhance Cooling and
Eliminate LED Re-Gridding Headaches
Tactik Lighting uses drivers that care capable of being in ambient temperatures up to 167°F. With the light engine itself capable of being in ambient temperatures of 245°F.
If an environment is above 167°F, the driver must be relocated to an area where the temperature falls below that threshold. This can range anywhere from 10' to 1000' with no voltage drop-off.
The driver box can be hung at ground level, ceiling level, mounted to strut or to a wall. The universal plug and play allow for complete accessibility.
Save Money + Space with Custom Daisy Chain Configurations
Our custom daisy chain configurations allow you to power multiple fixtures with one driver, saving you money and space. And we can custom-mount your drivers at a height that best suits your environment.
Reach out to a manufacturing representative today for a custom quote for your facility.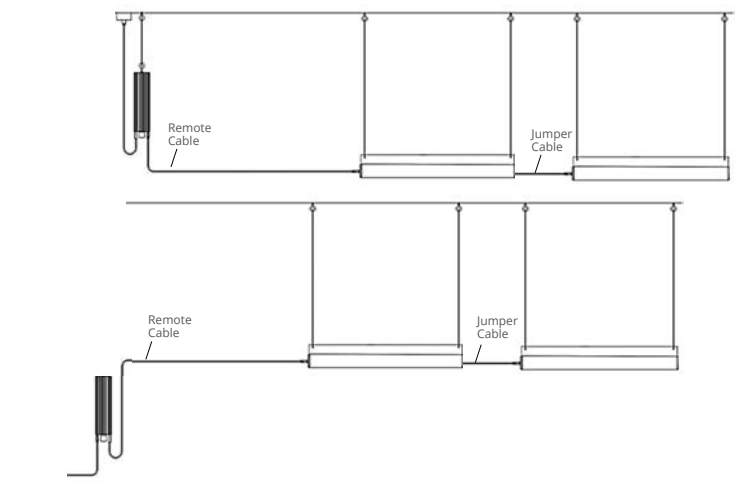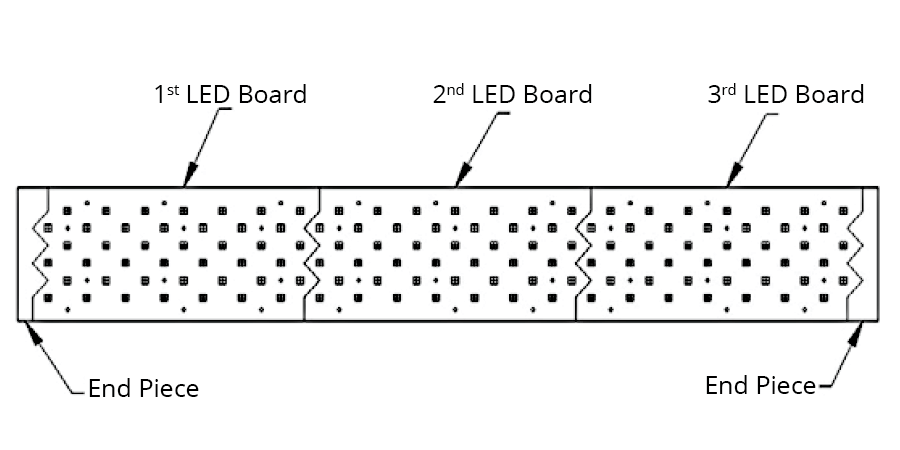 Uniform LED Lighting Efficiently Configured to Your needs
Patent-pending shark tooth design enables LED boards to be configured for any of 11 models, ranging from 100-900 Watts. The resulting array provides uniform light distribution with no dead spots.
Each 8" board has a maximum wattage of 75W. The higher the selected wattage of the fixture, the longer the fixture gets.
All orders totaling $4,000 or more ship free of charge.
Mail completed application to:
Tactik Lighting, 3115 N. 21st St., Suite 2, Sheboygan, WI 53083
Learn more about Tactik's industry-leading 10 year standard warranty!