SHERMAN Series LED Explosion Proof Fixtures
The Sherman luminaire: a multi-purpose solution, excelling as spot, down, tunnel, flood, and wall pack light for hazardous zones. Ideal for Power Plants, Industrials, Chemical Processing, Mining, Marine, and more.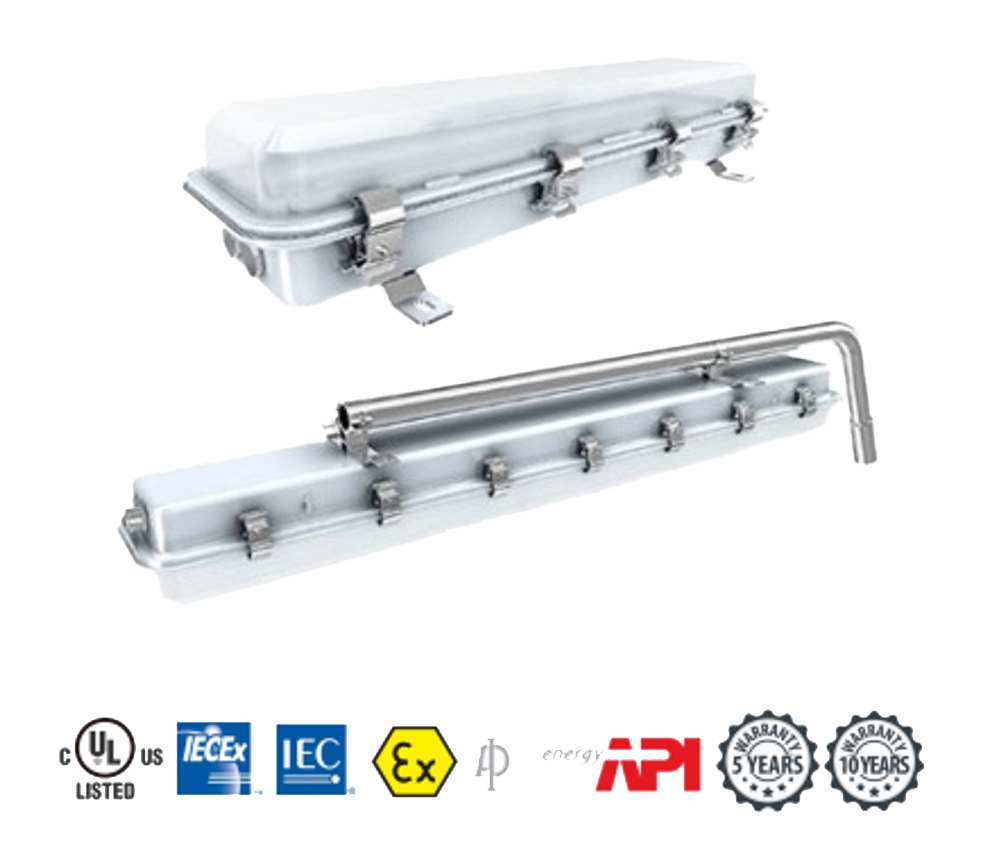 SHERMAN Series LED Features
Expected Life: 50,000 hours
Rating: UL844 Class 1 Division 2
Color Rendering Index (CRI): >70
Operating Temp: -40°C to +45°C
Power Factor: >0.9
Input Line Voltage:
• 100-277V
• 200-480V
Input Line Frequency: 50/60Hz
LED Chips: Philips
Driver: Meanwell
Housing: Standard 304 Stainless Steel
• Optional 316 Stainless Steel
Hardware: 304 Stainless Steel
Lens: Polycarbonate
SHERMAN Series LED Compliance
UL 844 Hazardous Locations North America
Class I, Division 2, Groups A, B, C, D
Class II, Division 1, Groups E, F, G
Class II, Division 2, Groups F, G
Class III
Marking Atex
II 2 G Ex db eb mb IIC T5/T6 Gb
II 2 D Ex tb IIIC T95°C/T85°C Db IP66
Marking ICEX
Ex db eb mb IIC T5/T6 Gb
Ex tb IIIC T95°C/T85°C Db
Marking Marine
Other Markings/Standards
SHERMAN Series LED Applications
Power Plants / Heavy Industrials
Distillery, Alcohol
Paper Mills / Wastewater Treatment Plants
Loading Docks / Platforms / Shipyards
Chemical Processing Facility
Mining
Ocean Marine
LNG facilities
Metal Industry
SHERMAN Series LED Additional Details
SERIES
LENGTH
WATTAGE
VOLTAGE
CCT
OPTIC
DRIVER
OPTIONS
MOUNTING/ACCESSORIES
WARRANTY
SHE
2- 2 feet
2- 20W
1- 120-277V
1- 4000K
1- 120°
1- 0-10V Dim
1- Sensor
1- Pendant Mount
5- 5 Year
4- 4 feet
3- 30W
2- 277-480V
2- 5000K
2- Non-Dim
2- 316 Stainless Steel Hardware
2- Surface Mount
10- 10 Year
4- 40W
3- BAA
3- Wall Mount
5- 50W
4- TAA
4- Pole Mount
6- 60W
All orders totaling $4,000 or more ship free of charge.
Mail completed application to:
Tactik Lighting, 3115 N. 21st St., Suite 2, Sheboygan, WI 53083
Learn more about Tactik's industry-leading 10 year standard warranty!