SHIELD Series LED Explosion Proof Fixtures
Versatile and resilient, the Shield Series excels as a spot, down, tunnel, flood, and wall pack light for hazardous areas. Features include high impact resistance, four cable entry points, dimmable/non-dimmable options, emergency battery backup with integrated junction box. Options for tempered glass lens, opal globe, guard, flat glass lens, dome reflector, angle reflector.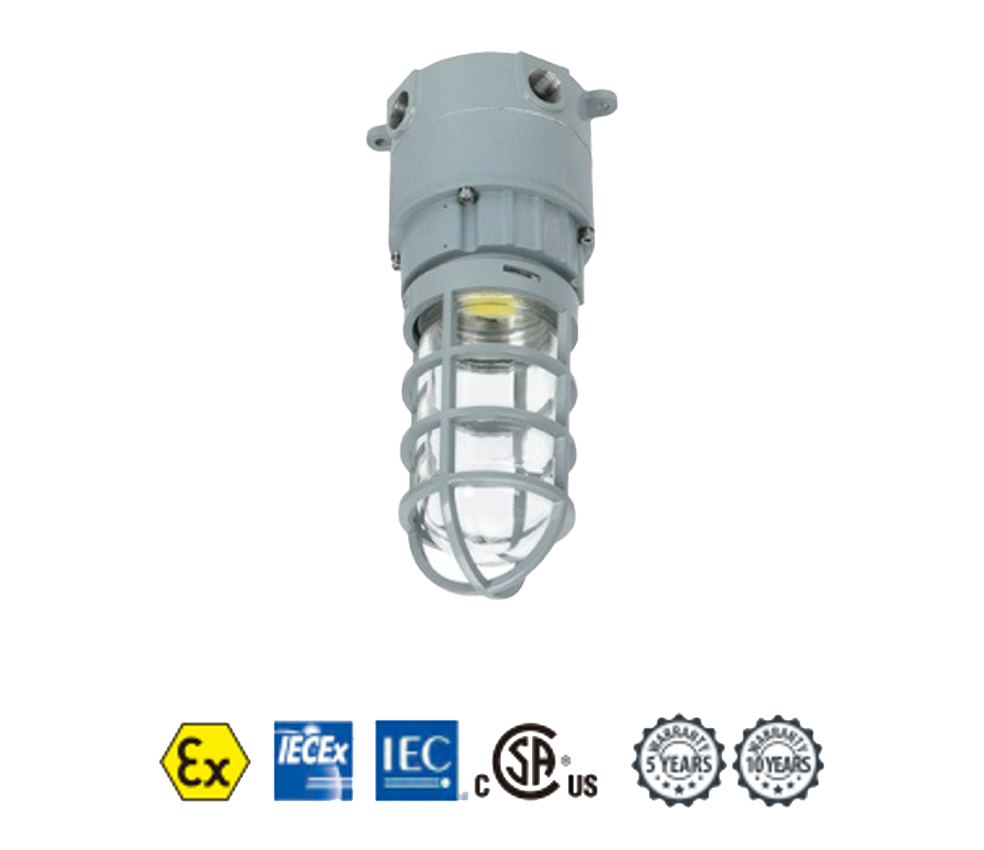 SHIELD Series LED Features
Heavy-duty and high impact resistance
Four connection cable entry points
Dimmable and non-dimmable options available
Emergency battery backup available with integrated junction box for driver
Tempered glass lens standard with opal globe and guard. Options include:
• Flat Glass Lens • Dome Reflector • Angle Reflector
Standard 120-277V, Available options include:
• 12-36VDC
Operating Temperature: -20°C - 60°C (-4°F - 140°F)
Housing: Copper Free A383 Die Cast Aluminum
Gasketing: Fluorosilicone Rubber
Hardware: Stainless Steel 304
Finish: Polyester Powder coat
Lens: Tempered Glass
LED Chips: Philips
Driver: Meanwell
Surge Protection: 10KV
Expected Life: Over 85,000 hrs
Color Rendering Index (CRI): 70
SHIELD Series LED Compliance
UL 844 Hazardous Locations North America
Class I, Division 2, Groups A, B, C, D
Class II, Division 1, Groups E, F, G
Class II, Division 2, Groups F, G
Class III
Other Ratings
NEMA 4X, IP66, IK10, UL1598A Marine Vessels, UL924 Emergency Lighting
SHIELD Series LED Applications
Power Plants / Heavy Industrials Storage Facility
Paper Mills / Wastewater Treatment Plants
Loading Docks / Platforms / Shipyards
Chemical Processing Facility
Petrochemical Processing Facility
Mining
Ocean Marine
LNG facilities
Metal Industry
Food and distilling
Alcohol Industry
Steel and aluminum factories
SHIELD Series LED Additional Details
SERIES
WATTAGE
VOLTAGE
CCT
OPTIC
DRIVER
WARRANTY
OPTIONS
MOUNTING/ACCESSORIES
SHI
1- 10W
1- AC120-277V
1- 3000K
1- 120°
1- 0-10V Dim
5- 5 Year
X- None
X- None
2- 20W
2- 12-36VDC
2- 4000K
2- 90°
2- Non-Dim
10- 10 Year
1- Flat Glass Lens
OPEM- Junction Box
3- 30W
3- 5000K
3- 60°
2- Clear Globe
OPCM- Ceiling/Surface Mount Junction Box 3/4" NPT
4- 40W
4- 6000K
4- 40°
3- Frosted Globe
OPWA- 90° Wall Mount
4- Wire Guard
5- Clear Globe w/ Wire Guard
6- Frosted Globe w/ Wire Guard
7- Dome Reflector
8- Angle Reflector
9- Buy American Act Compliant
10- Trade Agreements Act Compliant
All orders totaling $4,000 or more ship free of charge.
Mail completed application to:
Tactik Lighting, 3115 N. 21st St., Suite 2, Sheboygan, WI 53083
Learn more about Tactik's industry-leading 10 year standard warranty!