VANGUARD Series LED Explosion Proof Fixtures
Vanguard: the LED flood light for hazardous zones. Safety and reliability take center stage in its design, surpassing expectations. Robust heat sink, active thermal management, and top-notch LEDs/drivers handle -40°C to 65°C. Stainless steel hardware, DACROMET coating, low-copper aluminum body ensure corrosion resistance. Approvals: UL844: Class I Div 2, Class II Div 1. IEC60079: Zone 2, Zone 21 & 22. 150W, 200W, 240W, 12 optics, RGB options. High efficiency at 150lm/w. Tailor lighting for your hazardous area needs.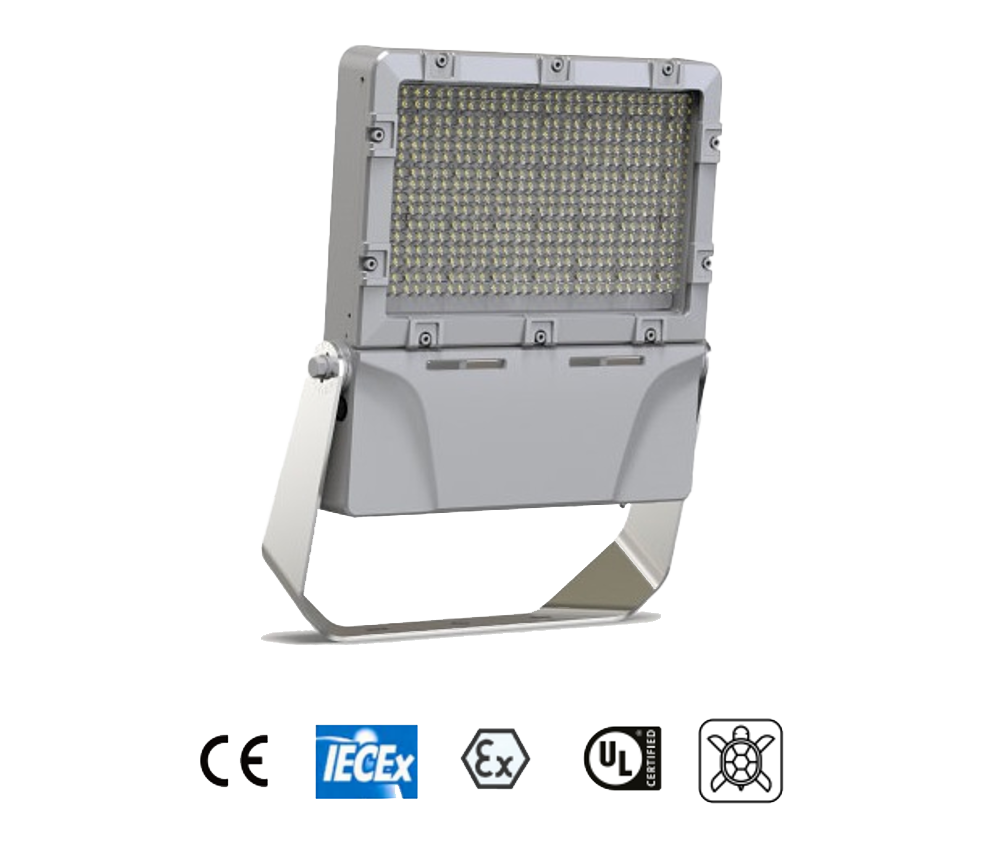 VANGUARD Series LED Features
Three wattages available: 150W, 200W, 240W
Up to 150lm/W, lumen packages from 22,500lm / 30,000lm / 36,000lm
Color temperatures: 2000K - 6500K
Colored LED available: R/G/B/AMBER options
Wildlife Friendly for coastal areas
Diversified light distributions to meet various applications
Double cable entry available - easy mounting
Equipped with low copper aluminum alloy body, special powder coating, stainless steel components, and hot-dip galvanized: all these anti-corrosion characteristics make the VANGUARD Series suitable for marine applications
LED chips are separated from the driver cavity ensuring exceptional heat dissipation and longer life span
Cover on the driver box is designed for anti-dislodging
Easy wiring with self-locking spring terminals
Ambient temperature:
• 150W: -40°C to 65°C (-40°F to 149°F)
• 200W: -40°C to 60°C (-40°F to 140°F)
• 240W: -40°C to 50°C (-40°F to 122°F)
Housing: Aluminum Alloy (less than 0.4% copper content)
Finish: Powder Coat
Lens: Polycarbonate
LED Chips: LED 3030
Driver: Inventronics / MOSO
Surge Protection: 10kV line-line, 10kV line-earth
Expected Life: 244,000 hrs
Rating: IP66 & IK08
Color Rendering Index (CRI): 70/80/90
Certifications and UL Listings
Class I, Division 2, Groups A, B, C, D
Class II, Division 1, Groups E, F, G
Class II, Division 2, Groups F, G
Class III
NEMA 4X
UL 1598 - Wet Locations | UL 1598A - Marine | UL 8750 - LED Safety | UL 844 - Hazardous Locations
CSA Standard
CSA C22.2 No. 137
CSA C22.2 No. 250.0
VANGUARD Series LED Applications
Power Plants
Storage Facilities
Paper Mills
Waste Water Treatment Plants
Heavy Industrials
Loading Docks
Shipyards
Chemical Processing Facilities
Petrochemical Processing Facilities
VANGUARD Series LED Additional Details
SERIES
WATTAGE
VOLTAGE
CCT
OPTICAL
CRI
ACCESSORIES
RATING
WARRANTY
VAN
15- 150W
1- 120-277V
1- 3000K
01601 (Type I Short)
1- 70
X- None
1- Hazardous UL844
5- 5 Year
20- 200W
2- 277-480V
2- 4000K
01602 (T4)
2- 80
1- Visor
2- Marine 1598A
10- 10 Year
24- 240W
3- 5000K
01603 (15°)
3- 90
2- Wire Guard
3- Wet Location 1598
R- Red
01604 (30°)
G- Green
01605 (60°)
B- Blue
01606 (90°)
A- Amber
01608 (T2)
01609 (T2 Medium)
01610 (T2 Short)
01611 (Type IV Short)
01612 (Type V)
01613
All orders totaling $4,000 or more ship free of charge.
Mail completed application to:
Tactik Lighting, 3115 N. 21st St., Suite 2, Sheboygan, WI 53083
Learn more about Tactik's industry-leading 10 year standard warranty!